One of the challenges in health care during the ongoing covid-19 pandemic has been emergency surgeries. In a time wherein there was no clear guideline, managing emergency surgeries was a huge challenge. There were papers from the western world suggesting 25% morbidity in surgeries during the covid pandemic. The guidelines on pre-op testing for covid 19 were not clear.
There is tremendous fear amongst patients to seek immediate medical consultation during the ongoing pandemic. As a result of this most of the patients are presenting at the hospital in late-stage or severe pain.
This was noticed in the majority of the patients during the lockdown period. This was noticed in patients suffering from piles & fistula.
"Almost all the piles' patients presented with severe pre-rectal bleeding or in severe pain," says Dr Ashwin Porwal.
They were operated on with minimally invasive Laser Haemorrhoidoplasty under universal precaution.
"Many patients of Fistula in Ano presented with abscess due to late presentation. They were operated under emergency with minimally invasive DLPL laser surgery for fistula", says Proctologist Dr Ashwin Porwal at Healing Hands Clinic.
There were 4 cases of Fourniers gangrene with uncontrolled diabetes with early sepsis. Emergency ambulance pick-up was arranged for such patients during the lockdown. Early surgery could prevent severe sepsis with faster recovery, Says Surgeon Dr Paresh Gandhi.
"All patients were operated under spinal anaesthesia to decrease the risk of transmission due to covid pandemic", says anaesthetist Dr Nitin Nachane.
"Open 3D mesh repair was preferred over the laparoscopic repair for obstructed hernia considering the greater risk of transmission during the covid pandemic", says Laparoscopic Surgeon Dr Deepak Kulkarni.
Many of the outstation patients who were operated on in early March for complex fistula couldn't come for follow up due to lockdown. They developed premature closure of the wound. Which eventually developed into pus leading to an abscess. Evaluation under anaesthesia was performed on all such cases to drain the pus. This normally would not have happened if the follow-up dressing was not skipped.
Contracting Covid from asymptomatic patients is always a risk amongst health care workers. To minimise this strict universal precaution were taken. As a result of this none of the hospital staff contracted covid 19.
Universal Precautions for Covid
1.PPE kits were used for OT staff
2.Social distancing was maintained throughout from consultation to surgery.
3.Sanitisation was practised from door to door
4.Daily sanitisation of Rooms and hospital
5.Private rooms were allocated to all patients.
6.Only one attendant per patient was allowed
7.Patients were trained to use the mask in the right way.
8.Screening of all patients before entering the waiting room. History of travel, cough, fever was ruled out. Temperature and SPO2 check for all the patients on admission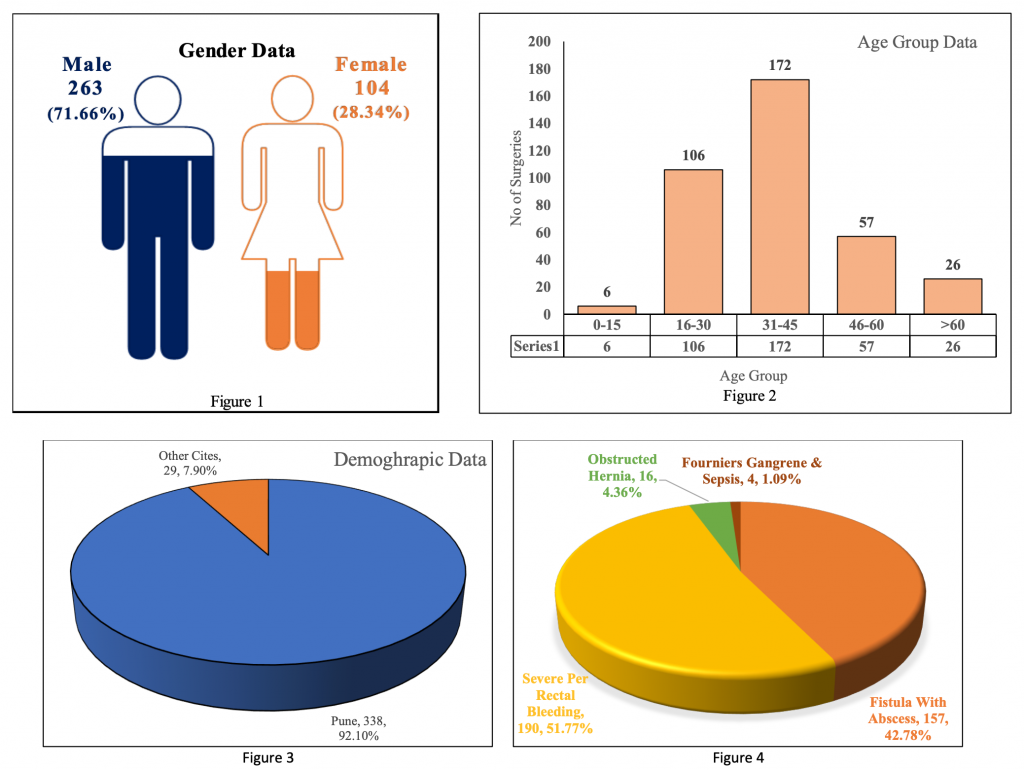 Source: Healing Hands Clinic
One such case with uncontrolled diabetes presented in a very late stage due to lockdown.
The patient was suffering from a complex recurrent fistula for the last 1 year.
Excessive sitting at one place and limited activity due to lockdown was the possible cause for his recent increase in blood sugar levels. He started having pain in the buttocks 5 days before coming to us in an emergency. He self-treated the condition considering it as piles. Severe pain with fever prompted him to visit us. He underwent emergency FiLaC surgery for fistula and the abscess was drained. He took a longer time for the healing.
Questions & Answers
1.Why patients with piles and fistula who did not seek medical care during lockdown are taking a long time to heal now?
Answer : Usually 70% of patients coming to us for piles are treated with medicines and diet as they are diagnosed in an early stage. But now they are presenting in the late stages of the diseases with symptoms like severe pain or bleeding. Once the piles are in grade 3 or grade 4, medical management has a limited role. We are offering them Laser Surgery for same.
Patients with fissure who will normally respond to medications in 2 weeks are now taking minimum of 4-6 weeks for recovery with medications.
Patients suffering from Fistula are presenting in severe pain or fever due to abscess. Such patients need emergency surgery. But because of the active infection, healing is slow after surgery. Few complex cases might take 2-3 Months for complete healing after complex fistula surgery. Few patients need weekly follow up after fistula surgery but they are scared to travel due to lockdown. All these factors delay the healing and recovery time.
2.How seeking medical care in time helps in faster recovery?
Answer : Early diagnosis is the key to medical success and good quality of life. If piles are diagnosed in grade one or early grade 2 they can be cured with a specialised kit called PILOKIT which is 15 days course. It consists of innovative pilospray for instant relief without touching the sore anus. Pilotab for inflamed piles and Constitab for constipation.
Also, the uncomplicated fistula will heal very fast with laser surgery.
3.What are the various types of complications that patients with piles and fistula land up with when they delay treatment?
Answer : Patients in grade 3 and grade 4 piles will land up in severe per rectal bleeding with drop-in Haemoglobin. We saw many patients in bleeding who were having comorbid cardiac conditions and were taking blood thinners.
Few patients with abscess in existing fistula presented with early sepsis due to uncontrolled diabetes.
Few patients presented in severe sepsis with a morbid condition Called as Fourniers gangrene.
4.Is there any subset of patients who could have recovered with conservative treatment but now they had to undergo surgery as the disease progressed due to delay in seeking medical care during a lockdown ?
Answer : Most the patients with Acute fissure if treated in time are cured with medications.
But untreated fissure with severe pain or when it gets complicated into abscess or fistula will need surgery.
Dr Ashwin Porwal
Consultant ColoRectal Surgeon
Founder Healing Hands Clinic