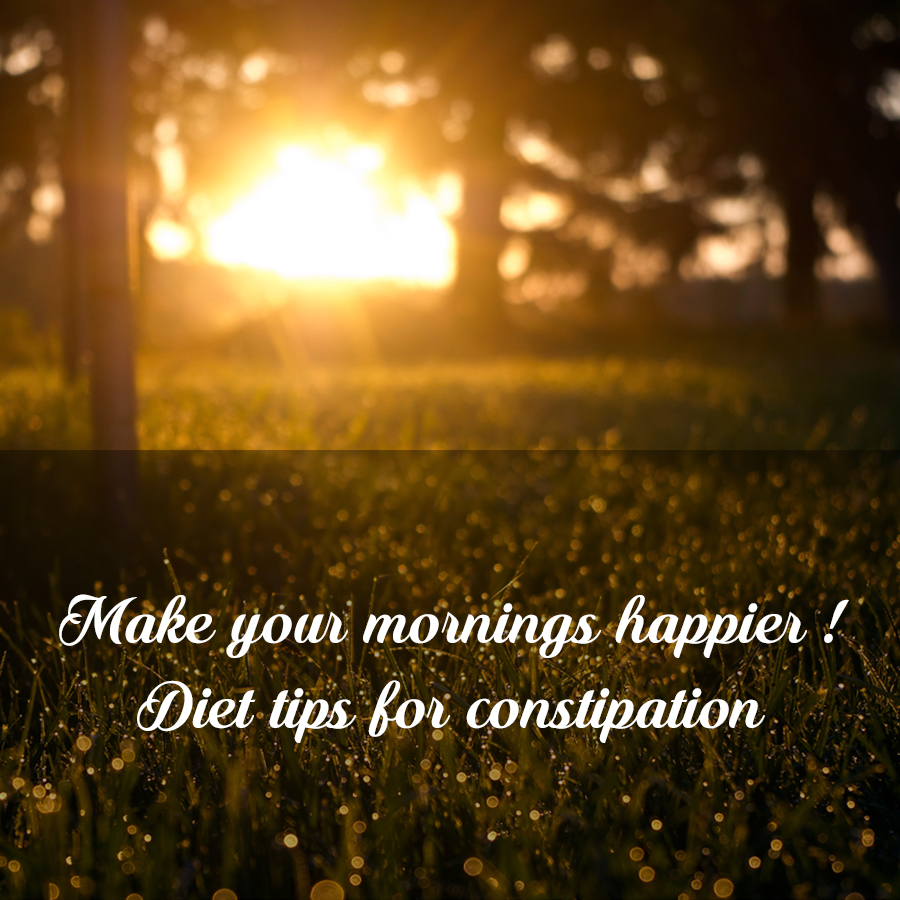 A good day obviously begins with a good morning which in turn relies a lot on our morning chores. Topping that list is a light tummy and how we wish it could be as easy as brushing teeth. Alas! It's not the case with a lot of us, for whom every morning brings with it that big question – Will it be a smooth transit today? CONSTIPATION is becoming an increasingly growing menace in our lives, but in most cases, we have ourselves to blame. Faulty dietary habits, sedentary lifestyle, lack of exercise and stress are few common reasons to blame. However, wouldn't it be wise to stop complaining at some point and take charge of our own health. That's exactly what we want to encourage you to do.
Food habits/diet tips/home remedies for constipation
1) Water is an important constituent of the stools. Insufficient intake can lead to hardening of stools and delay the transit time. Drink at least 8 to 10 glasses (2.5 to 3 liters) of water per day. It is especially beneficial to have 1-2 glasses of warm water soon after waking up as it helps in initiating peristalsis.
2) Include 5 to 6 servings of fruits and vegetables in the diet daily as they are an excellent source of fiber. Fiber, soluble as well as insoluble, is responsible for the bulk and binding of the stools. Whole fruit (not juiced) and raw vegetables in the form of salads are better. One should ensure sufficient water intake along with fiber intake on a daily basis to prevent constipation. Beans are also an excellent source of fiber.
3) Replace refined carbohydrates with whole grain cereals. Examples of refined carbohydrates are sugar, refined wheat flour and their products. Excess of these, disturbs the osmotic balance in the digestive system. Some good examples of whole grain cereals are oats, brown rice, whole wheat, etc. which contain fiber as well as B complex vitamins.
4) Probiotics are foods containing beneficial bacteria which are naturally present in the intestines. They help maintain a healthy gut environment. Consuming probiotic foods such as fresh curd/yogurt and buttermilk daily can help boost gut immunity and health and thus reduce risk of digestive disorders.
5) Go natural! Avoid processed, preserved, packaged food items as far as possible. Freshly prepared, home-made food items are the safest and most nutritious to consume. The traditional Indian diet (when cooked in minimal oil) is well balanced.
6) Super foods are foods which are especially beneficial for health and well-being. These foods contain unique substances which may have protective effect against various diseases. Some of the super foods for the digestive system are flax seeds, chia seeds, turmeric and cow's ghee.These simple changes when combined with moderate exercise can help in common constipation. However, if constipation does not improve with these measures (lasts more than 6weeks) , it's best to take an expert's opinion. Conditions like Obstructed Defecation Syndrome can cause Chronic Constipation and need a Proctologist's attention.