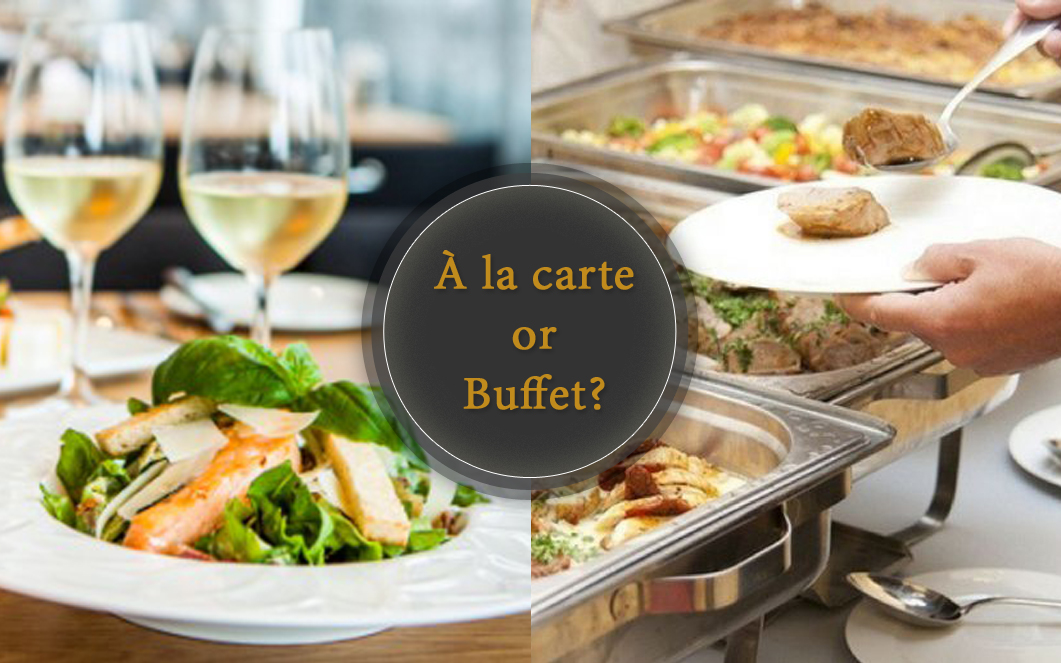 There has always been a question of buffet Vs à la carte popped in too many times when asked for recommendations to eat out. We as Indians love a good spread of delicacies. After all, who does not want to have that extra helping of a dessert or a bit more of chicken curry. Thus , the major conundrum in taking decision is to stick to a buffet or go in for à la carte?
A buffet is an ultimate choice when heading out in large groups . It is simply cost effective, and everyone has a choice to stretch their hands and stock their plates with favourite food items.
A point in favour of buffet is it allows us to move while picking on food. But, little do we know that this movement is not helping burn calories as we are loading our plates with more food or simply making rounds to try each food.
When opting for à la carte and ordering at the table, we pick on the choices our mind is in a frame of eating. We know how palatable the food would be as compared to the ones on the buffet spread.
So, it is highly recommended nutritionally to focus eating from à la carte menu when ordering for individual or a small company.
Remember our small tuck pocket called stomach has certain capacity to fill in the load and so are our senses. It is commonly seen and reviewed, people enjoying the best scrumptious high end buffet  often do not get the taste of a particular food as their senses are delighted to multiple palates and more often leading to a situation where our bowel movements gets irritated.
Economically viewing, buffets stand out the best . Enjoying an unlimited array of food, you can refill anything and everything as much as you want. But , how many times, have you realised you could not make it to half the dishes on offer?
So, next time, sit back and enjoy the hot piped food direct from the kitchen onto your table. Order and relish and churn each bite to make it easier on the digestive system as well.  So if you are on a diet regime and you want a change on your taste buds ask your dietician for a guilt free eating day. I am sure she/he would recommend you the ideal choice from the à la carte.
To conclude, an à la carte meal can be most gratifying and although this  gastronomic journey might cost you a little more, but dear friends isn't it much sensible to devour and digest one meal well rather than dumping in every possible food item and disturbing your gut?