Anal fistula or fistula-in- ano is an abnormal hollow tract or cavity between primary opening inside the anal canal to a secondary opening in the perianal skin; secondary tracts may be multiple and can extend from the same primary opening. Different types of anal fistulas are classified by their location. In order of most common to least common, the various types include:
Inter-sphincteric fistula : The tract begins in the space between the internal and external sphincter muscles and opens very close to the anal opening. It is a tract between two anal sphincters.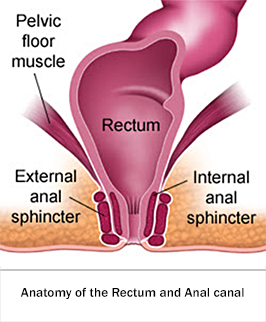 Transphincteric fistula : The tract begins in the space between the internal and external sphincter muscles or in the space behind the anus. It then crosses the external sphincter and opens an inch or two outside the anal opening. These can wrap around the body in a U shape, with external openings on both sides of the anus. It is also called as horseshoe fistula.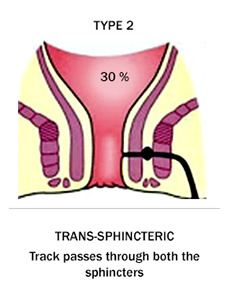 Suprasphincteric fistula : The tract begins in the space between the internal and external sphincter muscles and turns upward to a point above the puborectal muscle, crosses this muscle, then extends downward between the puborectal and levator ani muscle and opens an inch or two outside the anus
Extrasphincteric fistula : The tract begins at the rectum and extends downward, passes through the levator ani muscle and opens around the anus. These fistulas are usually caused by an appendiceal abscess, diverticular abscess or Crohn's disease.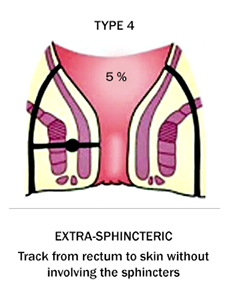 Cause of Fistula in ano – The most common cause of fistula is an anal abscess, though there are several other possible causes which may lead to fistula in ano which can be stated as follows:
1.Anal Abscess : An abscess is a collection of pus in an area of the body. An anal abscess develops when a small anal gland becomes infected with bacteria. It can be very painful and is one of the utmost reason which causes fistula. Approx 80% of cases having fistula are caused by abscess
2.Intestinal Inflammation : Intestinal inflammation which causes due Crohn's disease which is a type of inflammatory bowel disease and Diverticulitis which is a condition which leads to inflammation of the small out pouching or diverticulitis which forms a number of tiny pockets from the side of the colon.
3.Malignancy in the an rectal area can lead to fistula in anal area.
4.Infections – Infection like Human Immunodeficiency Virus(HIV), Acquired Immunodeficiency Syndrome(AIDS),Tuberculosis etc are infections which leads to fistula
4.Iatrogenic – As a complication of a previous surgery in the region.
Symptoms of Fistula in Ano
Possible symptoms include:
1. Constant pain and discomfort which is throbbing and worsens when sitting down.
2. Skin irritation around the anus which includes swelling and tenderness.
3. Pus discharge
4. Constipation
5. Fever
Diagnosis of Fistula in Ano:
1. A brief history and required information is taken which is then followed by a clinical examination along with a digital rectal examination which is enough to diagnose an anal fistula
2. Proctoscopy – A small inspection of the rectum is done with a small tube like scope called as proctocopy to check for any concomitant condition in rectum area.
In certain conditions doctors may also take help of MRI Fistulogram if the fistula tract is difficult to diagnose.
Treatment for Fistula in ano (Anal Fistula)
There are two approaches to treatment of Anal Fistula viz. Traditional technique and Modern technique.
A)Traditional Technique include :
1. Fistulectomy : This process involves cutting open the whole length of the fistula in so that the surgeon can flush out all the content in the fistula. The fistula tract is removed and the groove which is formed is left behind to heal. This procedure comes with a risk of damaging the sphincter muscle which results in fecal incontinence and is usually used for treatment of complex anal fistula.
2. Ksharsutra : This technique has an Ayurvedic approach in which a thread of a special kind which is coated with ayurvedic medications is inserted into a fistula tract. This kind of treatment has no cuts and stitches but also needs to be done in multiple weekly sessions that is completed over a few months
B) Modern Technique include :
1. Video Assisted Anal Fistula Treatment : Also known as VAAFT is a technique used for a surgical treatment of complex fistula and is preformed with the help of a fistuloscope
2. Ligation of Intersphincteric Fistula tract : Also known as LIFT is a technique used to treat a complex or deep anal fistula. A seton is firstly placed in the tract which forces it to widen over a period of time. A few weeks later, the surgeon doctor removes the infected tissue and closes the internal fistula opening.
3. Fistula plug : A fistula plug is a plug that is 100% synthetic bio-absorbable scaffold. The fistula plug is placed in the fistula tract. Over a period of time the cells from the body migrate into the scaffold and new tissues are generated as the body absorbs the plug material which leaves no permanent material in the body.
4. Fistula-tract laser closure – Also known as Filac is done using Leonardo laser which was first introduced in India by Dr Ashwin Porwal at Healing Hands Clinic. This procedure helps in gently removing the fistula tract without damaging the sphincter muscle.
5. Distal Ligation Proximal laser – Known as DLPL aims not only at treating fistula but also to save the sphincter muscle which helps to prevent incontinence and to prevent recurrence, considering the nature of the fistula.In this treatment of fistula, firstly abscess cavity with internal opening is excised and then closing of distal tract is done. The proximal area of fistula tract is then sealed with the help of Leonardo laser which helps in complete closure of tract.
For more information on anal fistula you can click on the following link :https://www.healinghandsclinic.co.in/fistula-treatment-centre/
For appointments : https://www.healinghandsclinic.co.in/online-appointment/