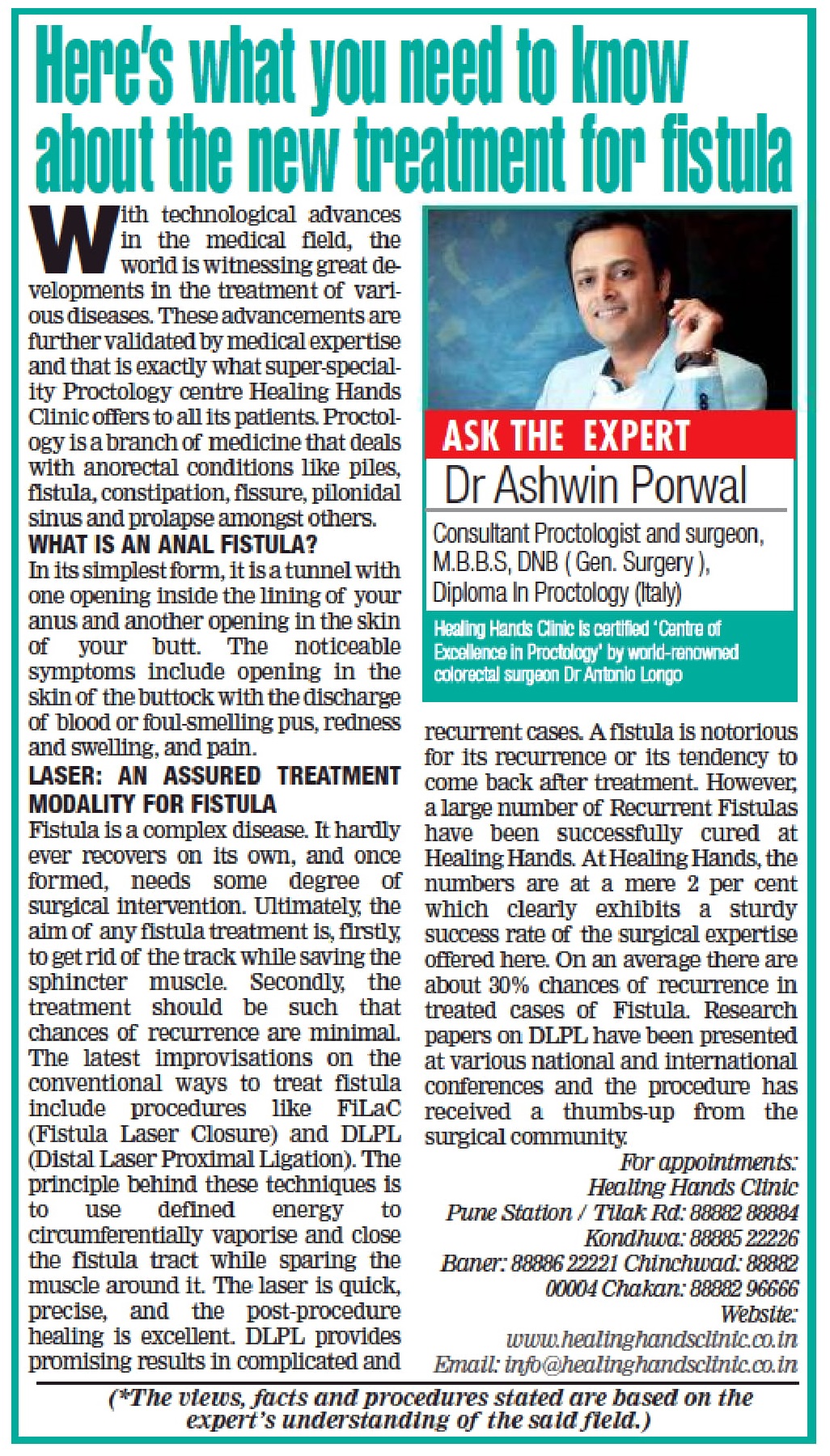 With technological advances in medical field, we are witnessing great developments in treatment of various diseases. These advancements are further validated by impeccable medical expertise and that is exactly what super-speciality Proctology centre Healing Hands Clinic offers to all its patients. Proctology is a branch of medicine that deals with anorectal conditions like Piles, Fistula, Constipation, Fissure, Pilonidal Sinus and Prolapse amongst others.
What Is an Anal Fistula?
In its simplest form, it is a tunnel with one opening inside the lining of your anus and another opening in the skin of your butt. The noticeable symptoms include opening in the skin of the buttock with discharge of blood or foul-smelling pus, redness and swelling, and pain.
Laser: An assured treatment modality for Fistula
Fistula is a complex disease. It hardly ever recovers on its own, and once formed, needs some degree of surgical intervention. Ultimately, the aim of any fistula treatment is, firstly, to get rid of the tract while saving the sphincter muscle. Secondly, the treatment should be such that chances of recurrence are minimal. The latest improvisations on the conventional ways to treat fistula include procedures like FiLaC (Fistula Laser Closure) and DLPL (Distal Laser Proximal Ligation). The principle behind these techniques is to use defined energy to circumferentially vaporize and close the fistula tract while sparing the muscle around it. Laser is quick, precise, and the post-procedure healing is excellent. DLPL provides promising results in complicated and recurrent cases.
Fistula is notorious for its recurrence or its tendency to come back after treatment. However, a large number of Recurrent Fistulas have been successfully cured at Healing Hands. The statistics so far state that on an average there are about 30% chances of recurrence in treated cases of Fistula. At Healing Hands, the numbers are at a mere 2% which clearly exhibits a sturdy success rate of the surgical expertise offered here. Research papers on DLPL have been presented at various national and international conferences and the procedure has received a thumbs-up from the surgical community.
For appointments:
Healing Hands Clinic
Pune Station / Tilak Rd: 88882 88884
Kondhwa: 88885 22226
Baner: 88886 22221
Chinchwad: 88882 00004
Chakan: 88882 96666
Website: www.healinghandsclinic.co.in
Email: info@healinghandsclinic.co.in