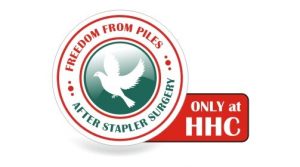 'Piles', clinically known as 'Haemorrhoids' and vernacularly known as 'Mulvyadh' in Maharashtra, are inflamed blood vessels located near the anal opening, causing the lining of the anal canal to slide down. Piles appear as small lumps formed on the surface of the anus inside the back passage. When the pressure on anal blood vessels increases, they swell and enlarge to form small lumps i.e. Haemorrhoids. They can develop inside or outside the anus, according to which they are classified as internal and external haemorrhoids.
Suffering from piles is painful and equally embarrassing. Many people try out conventional home remedies rather than consulting a physician about primary symptoms. Most of Piles cases cure within a few days without medication and further surgical intervention. However, home remedies may not always be helpful in curing the ailment. It's better to visit a specialist, if home remedies don't seem to deliver positive results and piles recurrently develop.
There's nothing to feel awkward, if you are suffering from Haemorrhoids because it's one of the most common lifestyle diseases. As soon as you notice any symptom indicating the occurrence of Piles, it's advisable to discuss the same with a Colorectal Surgeon.
Common Symptoms of Piles
Anal itching & recurrent bleeding
Mucus discharge
Painful & strained bowel movements
Dragging sensation in the back passage
Sliding down of the anal parts
According to the extent and inflammation, Haemorrhoids are classified in four stages. The symptoms and treatment alternatives become complex, as the ailment worsens from Grade I to Grade IV. When diagnosed in Grade I or II, Piles can be cured by home remedies, medication, physiotherapy and dietary modifications. However, it's difficult to cure it in Grade III & IV without surgical intervention.
Detection of Piles
Piles can be diagnosed through physical examination and in some cases, advanced diagnostic techniques such as Colonoscopy and Sigmoidoscopy need to be performed
Dr. Ashwin Porwal has successfully performed more than 40,000 stories of piles treatment and surgeries in Pune, Chinchwad, Chakan and Navi Mumbai. Read here what our patients feel after treatment…
Mulvyadh Treatment
MCDPA
Healing Hands Clinic
Surgical Treatment
When diagnosed in Grade III or Grade IV, surgical intervention is recommended. In contrary to the conventional, painful open Piles surgery, HHC offers the latest & innovative technology to cure Piles STAPLER Surgery. It's a minimally invasive, painless procedure involving a unique stapling technique that pushes inflamed anal blood vessels back in their original position. It's a day care procedure and a patient is discharged in a day. Faster recovery and guaranteed cure are the key benefits of STAPLER Surgery.
Prevention of Piles is quite easy follow regular physical exercise, eat healthy & fibre-rich diet, drink plenty of fluids, and sufficient sound sleep. Daily life hassles might make it difficult to follow a healthy lifestyle. Dr. Ashwin Porwal's Healing Hands Clinic offers a complete range of health care services regarding lifestyle diseases including diagnosis, treatment and dietary consultation.
Read more about Piles/Mulvyadh treatment, surgery…
Contact us –
Mobile – 8888288884
Email – info@healinghadsclinic.co.in
Address –
Healing Hands Clinic,
4th Floor,Millenium Star
Extension, Above KFC
Restaurant, Adjacent to Ruby Hall
Entrance Gate, Dhole Patil Road,
Pune – 411001
Tel: 020-6164488/99