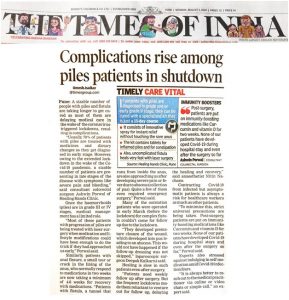 A sizable number of people with piles and fistula are taking longer to get cured as most of them are delaying medical care in the wake of the coronavirus triggered lockdowns, resulting in complications.
"Usually, 70% of patients with piles are treated with medicines and dietary changes as they get diagnosed in an early stage. However, owing to the extended lockdown in the wake of the Covid-19 pandemic, a sizable number of patients are presenting in late stages of the disease with symptoms like severe pain and bleeding," said consultant colorectal surgeon Ashwin Porwal of Healing Hands Clinic.
Once the haemorrhoids (piles) are in grade III or IV stages, medical management has a limited role.
"Most of these patients with progression of piles are being treated with laser surgery when medication and lifestyle modifications could have been enough to do the trick if they had approached us early," Porwal said.
Similarly, patients with an anal fissure, a small tear or crack in the lining of the anus, who normally respond to medications in two weeks are now taking a minimum of 4-6 weeks for recovery with medications. "Patients with fistula, a tunnel that runs from inside the anus, are also approaching us after developing severe pain or fever due to abscess (collection of pus). Quite a few of them even required emergency surgery," Porwal said.
Many of the outstation patients who were operated in early March (before the lockdown) for complex fistula couldn't come for follow up due to the lockdown.
"They developed premature closure of the wound, which developed into pus leading to an abscess. This would not have happened if the follow-up dressing was not skipped," laparoscopic surgeon Deepak Kulkarni said.
Healing is slow in such patients even after surgery.
"Patients need weekly follow up after surgery. But the frequent lockdowns made them reluctant to venture out for follow up, delaying the healing and recovery," said anaesthetist Nitin Nachane.
Contracting Covid-19 from infected but asymptomatic patients is always a risk for healthcare workers as much as other patients.
"To minimize this, strict universal precautions are being taken. Post-surgery, patients are put on immunity-boosting medications like Curcumin and vitamin D for two weeks. None of our patients have developed Covid-19 during hospital stays and even after the surgery so far," Porwal said.
Experts also stressed against indulging in self-medication amid Covid-19 infection fears.
"It is always better to reach out to the medical practitioner via online or video chats or simple call," an expert said.

Reference