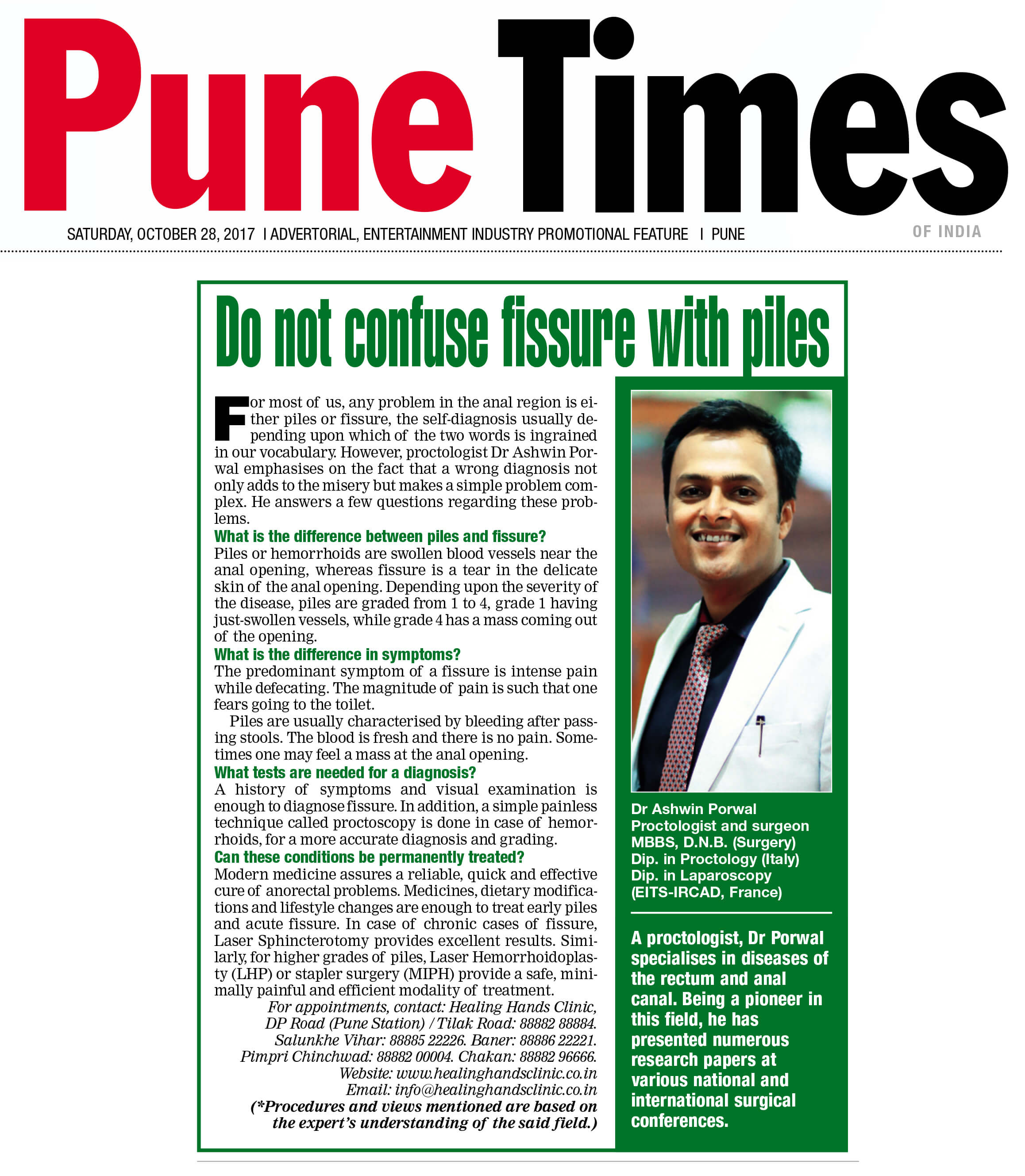 For most of us any problem in the anal region is either piles or fissure, the self-diagnosis usually depending upon which of the two words is ingrained in our vocabulary. However, a goofed-up diagnosis not only adds to the misery but makes a simple problem complex. I have tried to explain the difference between the two in simple words here. When it comes to one's health, its best to be well-informed and aware of the condition one is faced with.
What is the difference between piles and fissure?
Piles or hemorrhoids are swollen blood vessels near the anal opening whereas fissure is a tear in the delicate skin of the anal opening. Depending upon the severity of the disease, piles are graded from 1 to 4, grade 1 having just swollen vessels while grade 4 has a mass comes out of the opening.
What is the difference in symptoms?
The predominant symptom of a fissure is intense pain while defecating. The magnitude of the pain is such that one fears going to the toilet.
Piles are usually characterized by bleeding after passing stools. The blood is fresh and there is no pain. Sometimes one may feel a mass at the anal opening.
Which tests are needed for a diagnosis?
A history of symptoms and visual examination is enough to diagnose fissure. In addition to above, a simple painless technique called Proctoscopy is done in case of hemorrhoids, for a more accurate diagnosis and grading.
Can these conditions be permanently treated?
Modern medicine assures a reliable, quick and effective cure of anorectal problems. Medicines, dietary modifications and lifestyle changes (MCDPA) are enough to treat early piles and acute fissure. In case of chronic cases of fissure, Laser Sphincterotomy provides excellent results. Similarly, for higher grades of piles, Laser Hemorrhoidoplasty (LHP) or Stapler surgery (MIPH) provide a safe, minimally painful and efficient modality of treatment. The earlier techniques weren't as developed and recurrences were a problem. But with these advanced procedures hemorrhoids can be cured for good.